Religious Education
Religious Education Program
The Good is not made by Force!
Neither our Lord God comes unbidden!
Come and join our
General Religious Education Program
every Sunday after the Divine Liturgy
with
Father Mircea-Michael
Topics of discussion:
Dialogue:Application-the practice of our Christian-Orthodox Worship and Rite
Christian Ethic and Etiquette
Sectarian; other religions and
other significant topics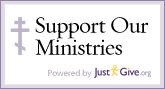 ===============
Visit the Saint Demetrios Jamaica Facebook page
Click↓
+++++++++++++++
Summer Schedule: Sundays: Orthros 8 am; Divine Liturgy 9:30 am.
Weekdays: Orthros and Divine Liturgy 8 am
+++++++++++++++
Liturgy
"We knew not whether we were in heaven or on earth, for surely there is no such splendor or beauty anywhere on earth. We cannot describe it to you; we only know that God dwells there among men and that their Service surpasses the worship of all other places..." Learn more»
==========
Register your children now for the Greek Afternoon School 2017 Fall semester. Call the Church Office at 718-291-2420 Monday through Friday, 9am to 5pm. Our Greek Afternoon School is tuition free for families that have paid their annual Stewardship contribution. Please visit the Greek Afternoon School webpage under the Ministries menu, above, for additional information.
==========