Ladies Philoptochos
---
---
CLICK--->>To print a 2017 Philoptochos Membership Application
---
The Saint Demetrios Ladies Philoptochos has a collection box outside the Church Office, throughout the year, for non perishable food items (oil,rice,canned vegetables,soups and pasta) and household supplies (paper goods,soap), for distribution to needy families. Please consider donating items for this worthy endeavor.
Ladies Philoptochos Officers
President- Loula Barkas
1st VP- Dorothy Katopis
2nd VP– Venus Dimou
Rec. Sec. [English]– Harriet George
Rec. Sec. [Greek]– Kethy Angelis
Corresponding Sec.– Eva Stavrou
Treasurer- Helga Gajdjis
Assistant Treas.– Mary Chakeres
Advisor– Artemis Tsekouras
Board Members
Marion Cardasis, Helen Georghiou, Toula Haralampoudis, Maria Kanes,
Tula Kentrotas, Vicky Mitrofanis, Anna Papagianopoulos, Nitsa Petkanas, Ritsa Taktekos
---
Reception in the Church Hall Oct 25, 2016 following the St. Demetrios Vespers Service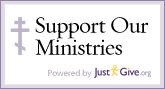 ===============
Visit the Saint Demetrios Jamaica Facebook page
Click↓
+++++++++++++++
Summer Schedule: Sundays: Orthros 8 am; Divine Liturgy 9:30 am.
Weekdays: Orthros and Divine Liturgy 8 am
+++++++++++++++
House of God
The visitor to an Orthodox Church is usually impressed by the unique features and the external differences between this place of worship and those of the various traditions of Western Christianity. Learn more»
==========
Register your children now for the Greek Afternoon School 2017 Fall semester. Call the Church Office at 718-291-2420 Monday through Friday, 9am to 5pm. Our Greek Afternoon School is tuition free for families that have paid their annual Stewardship contribution. Please visit the Greek Afternoon School webpage under the Ministries menu, above, for additional information.
==========