Bible Study
Come and join our
Bible Study Group
every Tuesday
7:30 to 8:30 pm
in the Church
with Father Konstantinos
Topic of Discussion:
The Sacraments of the Orthodox Church
Holy Communion, Baptism, Chrismation,
Confession, Marriage, Holy Unction, Ordination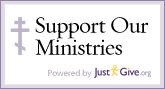 ===============
Visit the Saint Demetrios Jamaica Facebook page
Click↓
+++++++++++++++
Summer Schedule: Sundays: Orthros 8 am; Divine Liturgy 9:30 am.
Weekdays: Orthros and Divine Liturgy 8 am
+++++++++++++++
History
The Church has her origin with Jesus Christ and the Holy Spirit, not with a human teacher, or group, nor a code of conduct or religious philosophy. Learn more»
==========
Register your children now for the Greek Afternoon School 2017 Fall semester. Call the Church Office at 718-291-2420 Monday through Friday, 9am to 5pm. Our Greek Afternoon School is tuition free for families that have paid their annual Stewardship contribution. Please visit the Greek Afternoon School webpage under the Ministries menu, above, for additional information.
==========