Acolytes
Please contact Father Konstantinos if you wish to serve as an Altar Boy.
January 1, 2017
Palm Sunday 2017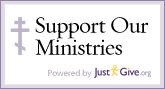 ===============
Visit the Saint Demetrios Jamaica Facebook page
Click↓
+++++++++++++++
Summer Schedule: Sundays: Orthros 8 am; Divine Liturgy 9:30 am.
Weekdays: Orthros and Divine Liturgy 8 am
+++++++++++++++
==========
Register your children now for the Greek Afternoon School 2017 Fall semester. Call the Church Office at 718-291-2420 Monday through Friday, 9am to 5pm. Our Greek Afternoon School is tuition free for families that have paid their annual Stewardship contribution. Please visit the Greek Afternoon School webpage under the Ministries menu, above, for additional information.
==========